Who do you love? Who do you live to please? Who is on your mind when you wake up each morning? 
Be a God-pleaser! God gave His Son Jesus because of His great love for all mankind. We must be so in love with Jesus that we want all to know Him too. Love your family and friends enough to tell them the Truth of God's Word. God will not change His Word for anyone. Jesus is coming back–and we can't live any old way we like. 
In John 14:23 Jesus replied, "Anyone who loves me will obey my teaching. My Father will love them, and we will come to them and make our home with them. Anyone who does not love me will not obey my teaching. These words you hear are not my own; they belong to the Father who sent me." (NIV). 
People may abandon you, many will criticize you, disconnect from you, and run from God when you tell them the Truth–OR they will fall in love with Jesus. People may criticize you and make fun of you because of your relationship with Jesus–but remember, in the end…it will be worth it all. 
Truth will offend some people. God's Word and His Truth can be understood by the world around us and in practical ways. Many people deny spiritual truth because it seems easier, but doing things the wrong way still brings about delayed consequences. 
People want everything right now—rather than doing life God's way. Do you get so mad when an elevator is full—that you choose to go the roof and jump to your death on the street? I don't think so. You might choose to take the stairs—all seventeen flights—and be worn out at the bottom. Huffing and puffing like a blow fish. People have grown impatient with waiting for anything. Look at what God's Word says in Isaiah 40:31: 
"But they that wait upon the LORD shall renew their strength; they shall mount up with wings as eagles; they shall run, and not be weary; and they shall walk, and not faint." 
As Christians, we cannot ignore God's Word…because it may be unpopular or cause division. When a person is confronted with truth, he or she will do one of two things—respond or react. The heart that is tender to God will respond. The tender heart is moved to tears and compassion and obedience. The tough heart may throw a temper-tantrum, a pity-party, disconnect, and deny the Truth. The heart that is tough, bitter, unforgiving, angry and rebellious will react.
We must love people enough to speak the Truth in love—no matter what. Eternity is forever. This life is passing away. Look at what Jesus said in Matthew 24:10-12: "And then shall many be offended, and shall betray one another, and hate one another" (KJV). 
Jesus said, "Blessed is he, whoever shall not be offended in Me" (Matthew 11:6).
"Because of the increase of wickedness, the love of most will grow cold, but the one who stands firm to the end will be saved. And this gospel of the kingdom will be preached in the whole world as a testimony to all nations, and then the end will come" (Matthew 24:12-14). 
Take time to read all of Matthew 24. Remember, even Truth presented in love will offend some people. We must love people enough to offer them everlasting life in Jesus Christ! 
Love,
Deborah 
#telltheworldaboutJesus  
BOOKS BY DR. DEBORAH STARCZEWSKI
GOD'S PRICELESS TREASURE (How To Overcome Challenges, Be Transformed and Know Your Purpose)… learn how to move from drama to destiny, pain to purpose, a mess to a message, and trials to triumph through turning to Jesus Christ. 
A LEAP OF FAITH (25 Days At The Mercy Seat)…the amazing ways the Holy Spirit led us will keep you turning the pages and increase your faith to believe God for anything. God raised my husband from death, healed him from two strokes, and walked with us through two open-heart surgeries through 25 days at Mercy Hospital. The way the three stories are divinely linked within and weaved together will give you a newfound hope and spur you to fall in love with Jesus all over again! 
THE MIDNIGHT HOUR (Will America Turn Back To God?)…a must read for every leader, pastor, and family across the globe. It reads like a devotional and is a great tool of evangelism. 
Available on Amazon, Barnes & Noble, www.starministriesinc.com and other distributors. Also available at events, speaking engagements and wherever Deborah ministers the Word of God. 
If you were outside your home and saw your child walking too close to the road, you would run after your child and get their attention with spoken words, right? No good parent wants their child's life cut short. You would yell "No," rather quickly and not think twice about it…for sure. 
You will take a stand if you are going to lose everything. You will take a stand when you align yourself with God and see people walking down a wrong path. 
If you were clipping limbs off a tree and a copperhead snake slivered out, would you pet it and invite it in for dinner or cut the head off? You either have to stand up to evil or be bitten. Satan is mad and there is a real war raging over the future of America and the nations, over the culture, over destiny and the prophetic. Satan knows his time is short. 
Laws have been changed to go against God's Word, bills that appear good for the people but bring about destruction and ruin are in place, and like the leadership had to be changed in the time of Daniel, we need a change in some areas as well. (See Daniel chapter 1). Daniel and his friends faced the opportunity to please God or please mankind. For Daniel, he chose to obey God. 
Satan knows how to cleverly disguise something to appear good, to save us money or make it appear that way, but in the end to bring about destruction. Any time a person is moved by padding their own pockets, and do not care about the good of the people, it is an evil plot. 
Esther encountered such a time as this recorded in the Bible. God saved the Jewish people because Esther chose to stand up and take a risk.
In our culture and media, God's name is mentioned with little reverence. Only in the midst of tragedy did the nation turn to God on September 11, 2001 for about three weeks. Satan has infiltrated the minds of people to even state that people who hear God have some type of mental illness. 
Instead of allowing the enemy to devour and destroy us, it's time for pest control. Get rid of fear, doubt, and unbelief. Run the enemy out of your mind and heart. Take a stand and speak truth in love. 
If at any time any of us get more concerned about money than we are souls, we are in trouble. If a pastor won't speak truth to a person because he or she is one of their biggest givers in the church, or speak to friends and family who go against God's Word, it is no different than big government that is more concerned with profit than the people they are called to serve. 
Fear can prevent any of us from taking a risk and taking a stand. It's time for all people to know that we can live and have abundant life in Christ—but the world system and God's ways are not the same. 
God's ways are always best. Our view of Him impacts three areas of our lives. First, our prayers. When we recognize His greatness and power, we will become more confident that He can accomplish mighty things—(Ephesians 3:20; James 4:2). 
Second, our understanding of God's righteousness and His goodness influences our behavior. As we desire to be more Christlike, if we want to be blessed by Him, then it is in our best interest to quickly obey Him and His Word. As we desire to be like Him, to desire righteousness, we will be quick to repent of sin instead of blaming people, manipulating, and acting out in the flesh. 
Third, our faith is highly impacted. Knowing that God can be trusted, that we know He is good and wants the best for us, causes us to fully trust Him. Knowing God and remembering His awesome acts on behalf of all mankind and those in our personal lives will build our confidence in Him. 
The Bible says, "My sheep hear my voice, and I know them, and they follow me: And I give unto them eternal life; and they shall never perish, neither shall any man pluck them out of my hand" (John 10:27-28).  Who on earth would not want eternal life in Christ? 
God's name was not mentioned in the entire book of Esther but His Hand was evident throughout. God is awesome. He is forever to be praised. He saves His people. 
Purim is a Jewish holiday that commemorates the saving of the Jewish people from Haman, who was planning to kill all the Jews. Purim, or the Feast of Lots, is a joyous holiday that recounts the saving of the Jews from a threatened massacre during the Persian period. Esther, who chose to take a stand shows the leading role she played in saving her people. She chose. She took a risk. 
Look at her background for a moment. "Mordecai had a cousin named Hadassah, whom he had brought up because she had neither father nor mother. This young woman, who was also known as Esther, had a lovely figure and was beautiful. Mordecai had taken her as his own daughter when her father and mother died" (Esther 2:7). 
Take time to read the Book of Esther. Ask the Lord to open your eyes to come under His Mighty Hand—the Holy Spirit, Prayer, the Word of God, the five-fold ministry, and the brethren. Don't allow the enemy of your soul to isolate you from those you love. Satan is evil and always scheming to take God's people out.
Our rights come from God, not from government. Every living human being has a soul. God has a plan and a purpose for every person…it's up to us as individuals to make the choice to obey God or not, to receive the gift of eternal life or not. Will you choose? What will it take for you? 
Stand strong, take a stand, step out and take a risk with God. When we wholeheartedly align ourselves with God…we stand with Him. We cooperate with His plan and purposes in the earth. Since God is for us, nothing can be against us. I have read the end of the Bible—and it ends well. How will your story end? 
God is raising up precious men and women of God who will take a stand with Him, and spread the message of hope in God—the Blessed Hope—Jesus Christ! The Promises of God are "yes" and "amen." God's best is stored up for you. Yes, you will have to overcome obstacles and opposition in order to lay hold on all God has for you. Meditate upon God's Word. Pray the Word and obey God's instructions. Get His Word on the inside and then share it with the world about you. The Word of God will sustain you through the fire, through the storms, and while you are fighting the good fight of faith required to lay hold of all God has promised. 
Share the Word…tell your children and grandchildren. Tell your family, friends, and those who come against you. Tell the world about Jesus! 
God may have called you to take a stand in the realm of government, He may have called you to do full-time ministry, or start your own business. God may have you homeschooling your kids, raising your family to know God or you may be a full-time parent and work a full-time job as well. God's plan and purpose for you is good…the most important thing you will ever do is fully and wholeheartedly receive and align yourself with God through Jesus Christ! The second most important thing is living that life out before the world around you…will you take a stand for Christ? 
Love,
Deborah
Books by Dr. Deborah Starczewski…available at Amazon, Barnes & Noble, www.starministriesinc.com and other distributors.
GOD'S PRICELESS TREASURE (How To Overcome Challenges, Be Transformed, And Know Your Purpose)….learn how to move from drama to destiny, a mess to a message, pain to purpose, and trials to triumph through turning to Jesus Christ. 
 A LEAP OF FAITH (25 Days At The Mercy Seat)….read the amazing accounts of how God intervened, raised my husband from death, healed him from two strokes, and walked with us through two open-heart surgeries at Mercy. The natural manifestations and extreme details revealed will give you hope to believe God for yourself, for your family, and the nations.
THE MIDNIGHT HOUR (Will America Turn Back To God?)….we are living in the Last Days…before the return of Jesus Christ….make sure of your relationship with Jesus and lead your family and friends to Him. You are a world-changer!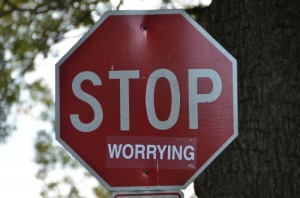 "And your ears will hear a word behind you, saying, This is the way; walk in it, when you turn to the right hand and when you turn to the left" (Isaiah 30:21). 
It's important to heed warnings from God. It's like driving your car down the road, seeing a sign that says "Detour," "One Way," "Curve Ahead," and heeding the signs to avoid getting into an unsafe situation. It's the same in our walk with God. 
God sends signs and warnings along our path in life as well. If you will heed the warnings, you will be able to safely remain on course. Always follow peace in your heart and you will be going in the right direction. 
Always listen to God—obey the leading of His Holy Spirit. Only God can be counted on to never fail you. If you have failed to heed a warning or several from God, there is still hope. Take time to read 1 John 1:9. 
"If we confess our sins, he is faithful and just to forgive us our sins, and to cleanse us from all unrighteousness."
When trouble starts in life, too often people listen to the wrong people—the naysayers. Don't listen to the "What if's" from other people. Keep your trust in God, your focus on Him, and seek the LORD for His direction…even in the midst of difficult circumstances. Don't react—stay calm—stay in peace—and wait on the Lord. Trust Him! 
"As for you, be calm and cool and steady" (1 Timothy 4:5). 
With God, all things are possible. In 2012, the LORD allowed me to see the stop sign above on the corner of Vail Avenue and Randolph Road in Charlotte. It was in a time of great need–my husband was in the hospital at Mercy. God raised him from death, healed him from two strokes, and walked with us through his two open heart surgeries. God was faithful then and He is still faithful today. If you need encouragement, take time to read A LEAP OF FAITH (25 Days At The Mercy Seat) …available on Amazon, www.starministriesinc.com, xulon.com and other book distributors. It will give you increased faith to believe God for anything. Make sure to pray the confession prayer inside the book. Always read God's Word…abide In Christ through prayer and study. It will change your life forever. 
God bless you and stop worrying. God is in control. I don't know what you're walking through, but God is with you. He is full of mercy and grace and brings justice to all. The Blood of Jesus covers you–the Blood answers from the Mercy Seat in Heaven–as believers in Christ, we are seated with Him in heavenly places–and we win in the Courts of Heaven. 
HIS LOVE and mine, 
Deborah Starczewski 
BOOKS FOR ENCOURAGEMENT
GOD'S PRICELESS TREASURE (How To Overcome Challenges, Be Transformed And Know  Your Purpose)…a great in-depth book on God's plan for your life and moving forward after heart-wrenching experiences. You can move from drama to destiny by turning to Jesus. A great read for couples and those seeking to get married. 
A LEAP OF FAITH (25 Days At The Mercy Seat)…the amazing ways the LORD led will keep you turning the pages and give you a glimpse of the amazing love of Father God. A must read for all. A modern day resurrection story. 
THE MIDNIGHT HOUR (Will America Turn Back To God?)…a must read for all.