People prepare for weddings, funerals, the arrival of a new baby, college, events, vacation, interviews for a new position, etc., but nobody prepares for cancer. It hits the newborn baby, the toddler, the child, teenager, your sibling, your best friend, adults and elderly. Then, all of a sudden, every moment becomes precious in life. Life is cut short—and people are left with the pain and heartache from that last wrong word, the loss of a loved one, and the emptiness that is left behind long after the funeral. Some are left with fond memories they have built together and peace if they know the person is in Heaven with God through salvation. 
Grief is a process—and we must walk through it with God and loved ones. The worst thing any of us can do is to isolate ourselves. That's where the enemy has a field day with the mind…and will attack in all kinds of ways. It is imperative to renew the mind in God's Word and pray in order to recognize the lies of the enemy. 
People prepare in great detail for the wedding day—so that every single thing is handled. From properly addressed invitations, to rehearsal dinners, flowers, venue arrangements, to cakes and dresses, "Thank You" notes, etc., —but nobody prepares for affairs, adultery, separation and divorce that destroys whole families. 
People plan to build a family. While some couples can't have children—they choose to adopt. People don't plan to destroy their own family. I don't believe for one moment that anyone in their right mind prepares to bring about destruction on purpose.
Sex was created by God for man. He created us to be fruitful and to multiply. God loves family. 
Satan twists, thwarts, and threatens all mankind with his lies because he knows his time is short. He cannot create—so he imitates and thwarts to bring about death, despair, discord, disease, division, and destruction—through wrong soul ties. He is the author of confusion! 
We live in a time where there is a war on the Truth. Truth always outweighs fact. In the end, Truth—the Word of God—will stand. Lies, deception, wars of words, and corruption in media is at an all-time high BUT GOD'S WORD STANDS FOREVER. He reveals all hidden truth. The Bible says, "The Holy Spirit reveals all hidden truth and shows us things to come." God said it—that settles it! 
People have hopes and dreams and plans. God is good. He does good and wants to do good. He is a good Father. He gave us His Son Jesus and His Word to guide us through this life, and to prepare us here on earth for eternity. God has a good plan for your life (Jeremiah 29:11). He says, "You will seek Me and find Me, when you seek Me with all your heart" (Jeremiah 29:13). The Lord wants us, His creation, to seek Him. He is not hiding out—but we only treasure what we seek. Treasure your destiny enough to step out of drama (devil racing after my assignment). Treasure family and friends. Life is not promised for tomorrow. You only get one life here—so live it pleasing God and glorifying Him by your actions! 
Family doesn't simply matter—it is all that matters. There is one family you must make sure you are in before it's too late—that's the FAMILY OF GOD. If you are breathing, it is not too late to call upon the Name of JESUS! Jesus is interceding for us that our faith will not fail. While He is interceding for us, we are given the gift of prayer and power in prayer. 
Use your God-given authority today to decree and declare God's Word—His Promises—over your life. Speak life over your family, friends, and bless your enemies. For if they knew the gift of God, if they knew they were blinded by sin, if they knew that all that matters is family and eternity, they would turn from their sin and repent. May I ask you this question: Have you prepared for eternity? Choose to walk in the light! 
Pray with me that the eyes of all lost and hurting family, friends, and enemies would be opened and hearts healed NOW IN JESUS' NAME—let there be light. May the eyes of their understanding be enlightened. Let today be the day of salvation. In Jesus' Name. Amen. Now, take time to praise HIM! 
Love, 
Deborah 
BOOKS BY DR. DEBORAH STARCZEWSKI
GOD'S PRICELESS TREASURE (How To Overcome Challenges, Be Transformed, And Know Your Purpose)…learn how to move from drama to destiny, pain to purpose, a mess to a message, trials to triumph through turning to JESUS CHRIST!  
A LEAP OF FAITH (25 Days At The Mercy Seat)…the miraculous stories of divine intervention, life and death, God's resurrection power, the power of prayer, the family of God, and how our lives are weaved together like a tapestry by God. This book will give you increased faith to believe God for anything. 
THE MIDNIGHT HOUR (Will America Turn Back To God?)… a must read for all.
Available on Amazon, Barnes & Noble, www.starministriesinc.com and other distributors; also wherever Deborah speaks and ministers.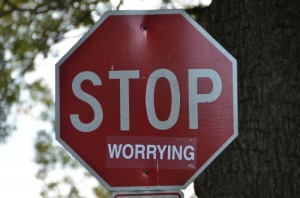 "And your ears will hear a word behind you, saying, This is the way; walk in it, when you turn to the right hand and when you turn to the left" (Isaiah 30:21). 
It's important to heed warnings from God. It's like driving your car down the road, seeing a sign that says "Detour," "One Way," "Curve Ahead," and heeding the signs to avoid getting into an unsafe situation. It's the same in our walk with God. 
God sends signs and warnings along our path in life as well. If you will heed the warnings, you will be able to safely remain on course. Always follow peace in your heart and you will be going in the right direction. 
Always listen to God—obey the leading of His Holy Spirit. Only God can be counted on to never fail you. If you have failed to heed a warning or several from God, there is still hope. Take time to read 1 John 1:9. 
"If we confess our sins, he is faithful and just to forgive us our sins, and to cleanse us from all unrighteousness."
When trouble starts in life, too often people listen to the wrong people—the naysayers. Don't listen to the "What if's" from other people. Keep your trust in God, your focus on Him, and seek the LORD for His direction…even in the midst of difficult circumstances. Don't react—stay calm—stay in peace—and wait on the Lord. Trust Him! 
"As for you, be calm and cool and steady" (1 Timothy 4:5). 
With God, all things are possible. In 2012, the LORD allowed me to see the stop sign above on the corner of Vail Avenue and Randolph Road in Charlotte. It was in a time of great need–my husband was in the hospital at Mercy. God raised him from death, healed him from two strokes, and walked with us through his two open heart surgeries. God was faithful then and He is still faithful today. If you need encouragement, take time to read A LEAP OF FAITH (25 Days At The Mercy Seat) …available on Amazon, www.starministriesinc.com, xulon.com and other book distributors. It will give you increased faith to believe God for anything. Make sure to pray the confession prayer inside the book. Always read God's Word…abide In Christ through prayer and study. It will change your life forever. 
God bless you and stop worrying. God is in control. I don't know what you're walking through, but God is with you. He is full of mercy and grace and brings justice to all. The Blood of Jesus covers you–the Blood answers from the Mercy Seat in Heaven–as believers in Christ, we are seated with Him in heavenly places–and we win in the Courts of Heaven. 
HIS LOVE and mine, 
Deborah Starczewski 
BOOKS FOR ENCOURAGEMENT
GOD'S PRICELESS TREASURE (How To Overcome Challenges, Be Transformed And Know  Your Purpose)…a great in-depth book on God's plan for your life and moving forward after heart-wrenching experiences. You can move from drama to destiny by turning to Jesus. A great read for couples and those seeking to get married. 
A LEAP OF FAITH (25 Days At The Mercy Seat)…the amazing ways the LORD led will keep you turning the pages and give you a glimpse of the amazing love of Father God. A must read for all. A modern day resurrection story. 
THE MIDNIGHT HOUR (Will America Turn Back To God?)…a must read for all.
"Do not be misled: 'Bad company corrupts good character.'" (1 Corinthians 15:33)
Wrong associations can corrupt good manners. The people you associate with on a regular basis will have an impact on your life—one way or another. Not all people who sound religious are really godly. Jesus said "they refer to me as 'Lord,' but they still won't enter the Kingdom of Heaven. The decisive issue is whether they obey my Father in heaven."…..He also said, "Anyone who listens to my teaching and obeys me is wise, like a person who builds a house on a solid rock. Though the rains come in torrents and the floodwaters rise and the winds beat against the house, it won't collapse, because it is built on a rock. But anyone who hears my teaching and ignores it is foolish, like a person who builds a house on sand. When the rains and floods come and the winds beat against that house, it will fall with a mighty crash." After Jesus finished speaking, the crowds were amazed at his teaching, for he taught as one who had real authority—quite unlike the teachers of religious law. (See Matthew 7:21-28).
It is impossible to live a life that is untouched by other people. Wrong attitudes, opinions, and unbelief through negative speaking can reshape our perspective and influence our decisions if we don't choose to renew our minds on a daily basis. That is why it is imperative to follow the leading of the Holy Spirit—not mankind—and to have a personal, intimate relationship with the Lord through spending time in His Word, and with other believers. It's a daily choice. 
It's totally awesome when one godly person's life sharpens another, but it can be a disaster in the making when negative influence sways better judgment. Being lured in by the temptation of negative opinions, and the world's system doesn't really show up too much in the beginning—but surely does with hindsight. It also has the power to harden the heart over time. 
When people who call themselves believers or Christians surrender to sinful lifestyles, it dulls the ability to discern right and wrong (1 Tim. 4:1-2), and can easily draw others along as well. Believe it or not, some of the biggest potential enemies to spiritual growth that Paul experienced were not those outside the faith who were involved in blatant sin, but rather those inside the church community. 
Negative influence isn't always obvious. We will never improve on the Master's plan—staying on the "ancient path"….and following Jesus Himself is always BEST. We will never improve on anything by imitating man. We are warned to be on the lookout for wolves in sheep's clothing—those who appear "spiritual" on the outside, but lead God's people astray (2 Thess. 2:3; 2 Peter 3:17; 1 John 4:1).
Negative influence might go something like this: "Come on, everybody is doing it." "You are over the top with this relationship with Jesus stuff." "You can skip college class today…no one will miss you." Or, when a friend says: "Don't you think your husband is too tight with money?" Or, "The world says it's okay, so it has to be okay with God." WRONG! 
The desire for man's approval, rebellion, and the pleasure of sin are traps of the enemy. Don't ignore warnings from the Lord…no matter how they come. Surround yourself with people who are positive influences, and limit time with negative people. Being around positive people who follow God's Word will also bring protection. 
Take time for prayer. The surrendered person has a relationship with God where he or she can hear what the Lord is saying. Through prayer, we submit ourselves to God, and allow our hearts, minds, and wills to be influenced by the power of the Holy Spirit. 
The question to ask is this: "Is this relationship drawing me closer to Jesus and the Cross?" Stick close to people who run everything by God and His Word. It may save you from disaster.
And…remember this….the very person who irritates you may be the very one God has sent to you to bring you to a place of victory in some area.  If your heart is tender, you will be drawn to God's truth and want to grow. If your heart is hardening and wounded, you will be annoyed, aggravated, and want to distance yourself from people who love the Lord and His Word. 
Focus on God's truth…it will transform your thinking (Romans 12:2). The Word protects our minds against the lies and deception of sin. Submit to God through His Word and prayer. Joshua 1:8 commands us, "Do not let this Book of the Law depart from your mouth; meditate on it day and night, so that you may be careful to do everything written in it." 
God loves you! He has a great plan for your life….Apart from our relationship with the LORD, all religious practices are empty. Let's pray together: "Father, in the name of Jesus, keep me close and obedient, real and authentic, as I live my Christian life. 
Take time to pray Psalm 129:4, Psalm 103:20, Isaiah 49:25, Isaiah 55:11, and Isaiah 54:17. 
God bless you!
Deborah Starczewski
Books by Dr. Deborah Starczewski
GOD'S PRICELESS TREASURE (How To Overcome Challenges, Be Transformed, And Know Your Purpose)….. move from drama to destiny, pain to purpose, a mess to a message, and trials to triumph through CHRIST. 
 A LEAP OF FAITH (25 Days At The Mercy Seat)….the full account of the miraculous intervention by God in the life of my husband—raised from death, two open heart surgeries, and healing from two strokes. This book reveals the power of hearing, listening and obeying God…and the importance of other believers in our lives. 
THE MIDNIGHT HOUR (Will America Turn Back To God?)… a must read for all. A great family devotional and makes a great gift for friends, family, and any occasion. 
Available on Amazon, Barnes & Noble, Xulon, www.starministriesinc.com and other distributors.
*Contact Deborah for ministry and speaking engagements at www.starministriesinc.com