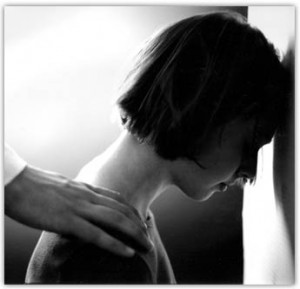 At some time or other we will all suffer deep hurt due to the loss of a loved one which can cause feelings of depression, pain, sorrow, emptiness and loneliness that likely take longer than you would anticipate to overcome.
There is an expected time of grief for such a loss.
As a Christian, the hope we have in Jesus carries us through such time of sorrow and pain (1 Thessalonians 4:13).
According to the American Heritage Dictionary grief is defined as "deep mental anguish, as that arising from bereavement". The feeling of grief can often be like the feeling of fear. Not all grief is wrong. Jesus manifested grief when He saw how others were grieved over the loss of a loved one (John 11:32-35). Paul wrote of "a continual grief" that he had in his heart (Romans 9:1-2; 10:1).
Having grief and expressing it is an important part of overcoming traumatic experiences such as the loss of a loved one.
Paul and the Ephesian elders expressed their grief as they bid him a sad farewell (Acts 20:36-38).
Grief can become a problem when it makes one useless for any service by sending them into extended isolation or when you are so grieved yourself you are unable to comfort others in their grief. Grief can also become a problem when it produces a psychosomatic illness. Many physical illnesses are either caused or made worse by emotional distress. Grief can take its toll on the body.
Faith in Jesus helps us to overcome grief. As a family, we can bear one another's grief by belonging to a church family where we have the family of God to comfort us and surround us in our time of loss (Romans 12:15, 1 Corinthians 12:25-26). We also comfort one another with the comfort we receive from God
(2 Corinthians 1:3-5).
---
What Scripture Says
"Blessed are they that mourn; for they shall be comforted" (Matthew 5:4).
"For me to live is Christ, and to die is gain" (Philippians 1:21).
"Jesus said unto her, I am the resurrection, and the life; he that believeth in Me, though he were dead, yet shall he live" (John 11:25).
"Let not your heart be troubled; ye believe in God, believe also in Me. In My Father's house are many mansions; if it were not so, I would have told you. I go to prepare a place for you. And if go and prepare a place for you, I will come again, and receive you unto Myself; that where I am, there ye may be also"
(John 14:1-3).
"For now we see through a glass darkly; but then face to face: now I know in part; but then shall I know even as also I am known" (1 Corinthians 13:12).
---
What to do next…
Seek the Lord in a quiet time of prayer. Spend time in His presence. He is always near, ready and willing to comfort. May the precious Holy Spirit comfort you in your time of loss and give you comfort and hope, peace and assurance of God's love during this time of grief.
If you are reading this and you do not know Jesus personally as your Savior, please ask Him to help you and save you. You can be prepared and have assurance that when you die you will spend eternity in Heaven. All you have to do is call on the Lord to forgive you and save you from your sins. Ask Him to become the Lord of your life in simple childlike faith. He will forgive you, cleanse you, and you will then become a child of God (John 1:12; Romans 10:10, 13: 1 John 1:8-9).
If your deceased loved one was your mate, ask the Lord to comfort you by His Holy Spirit and give you peace through His Word. God provides us comfort with the promise of our resurrection (1 Thessalonians 4:13-17).
There is hope and comfort in the Bible through the real life situations that occurred to David with the loss of a child. David prayed that the child would live. The child died, but David knew he must go on living (2 Samuel 12:22, 23). Jeroboam's son became sick and God said he was taking the child because He saw a good thing in the child (1 Kings 14:1, 13).
Jesus promises comfort for everyone who mourns. It is one of the ministries of the Holy Spirit to comfort and give peace to your heart (Galatians 5:22). You are assured of perfect peace as you turn your heart toward God and trust Him (Isaiah 26:3). Get alone with God with praise and worship music and sit in His presence allowing Him to minister to you during this time of grief. Allow your friends and family to be near you and do not isolate yourself from everyone. God promises to work everything for good to those who love Him and are called by Him
(Romans 8:28).
Depending upon the size of your local church, there will be a Pastor to come along side you to pray with you and share God's Word during this great time of need. It is easier for the Senior Pastor to come when attending a smaller church but the larger the congregation becomes, the more Pastors are on staff to assist. The Senior Pastor is called to hear and deliver the Word of God. If you do not have a church, please call us here at Star National Outreach Worldwide for a referral to a church in your area.
---
PRAY
As you pray and thank God for His peace and assurance, allow His love and grace to fill your heart during these difficult times. May the peace of God comfort you and may He overwhelm you with His unfailing love.
---
Suggested Scripture Reading
Psalm 23 The Lord is our Shepherd
1 Corinthians 15 The resurrection of the dead
2 Corinthians 5:1-9 Our eternal home in Heaven
1 Peter 1:3-5 Eternal inheritance
Philippians 1:21 To die is gain
Psalm 30:5 Promised joy
---
Remember God loves you and we love you! Thank you for the privilege of serving you!
Trackback from your site.