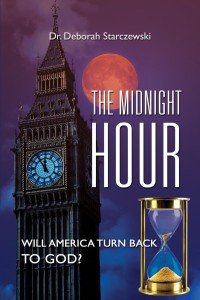 It is time for the church to arise and turn back to God in unified prayer and fasting. Always remember, if God can save you, He can save anybody. He saved Saul of Tarsus and changed his name from Saul to Paul. "Paul" means "a little man" and that was a constant reminder to him that he had to rely on God, not himself. He was equipped and empowered by the Holy Spirit. It takes no more grace to save a Saul of Tarsus, who was persecuting Christians, than to convert you or me. 
If God could save Saul, who was persecuting Christians, He can save anyone. Saul was confronted by Jesus Christ on the road to Damascus, and realized what he had been doing was wrong. His encounter with Christ brought conviction in his heart and it led to conversion. After he was converted, Paul experienced communion, consecration (being set apart totally to God), and was commissioned by Jesus as an apostle to preach the good news of the Gospel of Jesus Christ. Paul had been blind, but when He met the light—the Son of God, he experienced a heart change. 
We must choose to turn to God, rely on His strength, and take back our land. We must stand upon God's Word for the lost. That is the heart of God. We have the same resurrection power within us (as believers) that raised Jesus Christ from the dead. 
When we fully come to know God, we live in a state of amazement and awe through every day. We have divine appointments on a daily basis, we see God's hand in details, and we sense His presence. God is waiting on us to be a people who will be fully committed to Him. He desires to show Himself strong on our behalf. 
When we are committed and get to know the Lord, we begin to hear His voice and we know it. We hear Him in small details and we watch life unfold just as He has spoken. We live in such a state of time that we must hear God and know His voice. Whether we believe it or not, there is a war raging between good and evil. Let us pray together for revival in our own hearts and for this nation. Get back to prayer in individual homes, altars—and may it spread throughout the communities. We must fully commit to God in every area. 
The Bible says, "For the eyes of the Lord range throughout the earth to strengthen those whose hearts are fully committed to him" (2 Chron. 16:9, NIV). The King James Version says, "For the eyes of the Lord run to and fro throughout the whole earth, to shew him-self strong in the behalf of them whose heart is perfect toward him." 
In 1 Samuel 30, after David and all his men came back to Ziglag—they all wept till they had no strength left. The men that were with David blamed him and wanted to stone their own leader. But David chose to encourage himself in the Lord. He worshipped and then cried out to God in prayer. God spoke specific instructions to David—and he obeyed God. David recovered all and then helped those who stayed behind. Take time to study 1 Samuel chapter 30 and pray. 
We learn a highly valuable lesson in this chapter. It's time to understand the steps that David took–and do them as a nation.  Stop allowing the enemy to destroy within. Satan sits back and laughs—because he has got people turning on one another. Choose to be the change in every situation. Go out of your way to be kind to people. Don't fall for the enemy's trap of isolation and shutting down communication. 
God have mercy on this nation. We decree light, blind eyes opened, and a nation that turns back to God as a people. May the fire of the Holy Spirit set your heart ablaze for souls and give you a greater desire to obey God fully. Pray for the President of the United States. Pray for all leaders and choose to bless one another in the name of the Lord Jesus Christ! He is coming back! 
God bless you!
Deborah 
(Excerpt from THE MIDNIGHT HOUR: Will America Turn Back To God?….available on Amazon, Barnes & Noble, www.xulonpress.com/bookstore, and other distributors. See www.starministriesinc.com for other books by Dr. Deborah Starczewski) 
BOOKS BY DEBORAH STARCZEWSKI
God's Priceless Treasure (How To Overcome Challenges, Be Transformed and Know Your Purpose)
A LEAP OF FAITH (25 Days At The Mercy Seat)….a modern, up-to-date resurrection story. This book will give you hope and faith to believe God for anything. 
THE MIDNIGHT HOUR (Will America Turn Back To God?)
David's own family didn't see him coming. They didn't think or ponder that he was even in the lineup to be king. But God…saw David in the fields, tending the sheep, worshiping the Lord God Himself, and He saw a heart that was after Him.
While it is easy to get preoccupied with the world's mess down here, you better stay focused on Jesus and on souls. I am telling you…Jesus is coming back soon. The revival fires are coming! There are people in the fields that are in need of Jesus. The fields are ripe with harvest.…souls. That will put your feet to dancing….worshiping before the Lord. 
It is easy to get focused on the vision for our lives to the place that we miss the process totally. It's easy to get caught up in the world system and live beneath God's supernatural plan for our lives. 
God wants us to grow into the likeness and maturity of Jesus. He wants us to do like Andrew did in the Bible (Andrew means bringer…he was always bringing people to Jesus)…to bring as many converts to Him as possible, and to speak life for transformation of the nations and to the people we meet everywhere we go in life. He wants us to use our God-given authority to bring about transformation in our sphere of influence. 
We are called into fellowship with God. We get to spend time with Him, and His Holy Spirit lives inside of us and can rest upon us. 
Everything we could ever want out of life flows from from this one privilege that King David understood better than most New Testament believers. David referred to it as the one thing: 
One thing have I desired of the Lord, that will I seek after; that I may dwell in the house of the Lord all the days of my life, to behold the beauty of the Lord, and to enquire in his temple. (Psalm 27:4 KJV).
One thing I ask from the LORD, this only do I seek: that I may dwell in the house of the LORD all the days of my life, to gaze on the beauty of the LORD and to seek Him in His temple. (Psalm 27:4 NIV)
We must learn to welcome and host the Holy Presence of God…if we want to see and experience revival fires, a returning to God as a nation. Repentance is key. We must seek God with all of our heart, mind and soul as believers…watching for His return…and occupying till He comes. 
Jesus said, "But seek first His kingdom and His righteousness, and all these things will be added to you" (Matthew 6:33). The Kingdom is not separate from His Presence. This command by Jesus is to simplify and prioritize our lives down to this one thing which is evidenced by right living and winning souls. 
As yourself these questions:
Am I surrendered to the Holy Spirit? 
Do I try to run everything and want control?
Has the Presence of the Lord changed my heart attitudes to line up with Jesus?
Does His Holy Presence affect the vision and focus of my life personally?
Am I fully submitted to God so that I obey immediately?
Do I have any feelings against anyone that is clearly against God's Holy Word?
Ask the LORD what it is that He wants you to do next. It may be to invite someone else to preach/teach/minister at your church—so GOD HIMSELF can usher in revival. Sometimes God uses the most least likely candidates — like you read above—about David. 
"Whatever He says to you, do it? (John 2:5). 
Remember this: God spoke the worlds into being. "By the word of the Lord the heavens were made, and by the breath of His mouth all their host" (Psalm 33:6; Genesis 1:3-24). 
Use your words wisely. Speak life. Connect with other believers who are on fire for God—and fan the flame in those whose flame has been reduced to a flicker. People are hurting and need encouragement. Someone is about to give up that needs you to give them hope. 
Take time to spend in God's Presence and devour His Word. When we are so full of God that we want what He wants, we move to obedience immediately. 
We have the most amazing privilege of carrying God's presence. Let's bring Heaven to earth…together….knowing we are called by God into divine purpose. 
We must live for more…more of God…a fresh filling of the Holy Spirit on a daily basis. In Acts 4, Peter joins many others in prayer and prays for more—more boldness. God wants us to be empowered by His Holy Presence so that we can snatch souls from the realms of darkness. 
"Lord, let your people live in overflow!" In Jesus' name! Lord, heal every heart, dry every tear, and bring healing and salvation to every household." 
HIS LOVE and mine, 
Deborah  Starczewski
Deborah's books are available on Amazon, Barnes & Noble, etc.
A LEAP OF FAITH (25 Day At The Mercy Seat)…
GOD'S PRICELESS TREASURE (How To Overcome Challenges, Be Transformed and Know Your Purpose)
THE MIDNIGHT HOUR (Will America Turn Back To God?)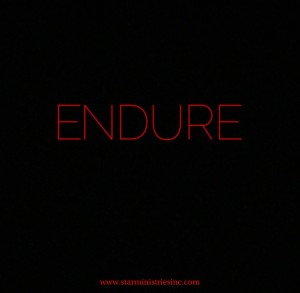 We need to look at what Jesus said the times would look like just prior to His return, and learn what we MUST do. We must love the Truth and learn to depend upon the Holy Spirit in every detail…to hear the still small voice of God, and recognize His Hand in our lives. The Holy Spirit is the One who convicts the world of sin.
What will it take to succeed in these times? Endurance. 
What is endurance? It is not a very popular word nor one that is understood very easily. However, in order to succeed in battle, we better understand it and learn to endure. It is obvious that we are living in times when it is increasingly important that we understand what it means to us as individuals. 
The King James Version of the Bible was translated well over three hundred plus years ago, and the meaning of some English words have changed. The KJV uses the word patience where we would use the word endurance today. Nobody likes that word—patience. People cringe when they hear someone mention that they prayed for patience. Many say that asking God for patience brings tribulation and all kinds of trouble. 
Where we talk about patience, the King James Version uses the word long-suffering. Patience or long-suffering means to be willing to put up with irritating people, circumstances and situations without losing your temper—to remain in good character, composed, and not fly off the handle like a volcanic eruption. It is a highly valuable Christian virtue…and satan knows best how to trigger each person to lose their temper. Hello?!?!
I am well aware that I could use more of it myself when it comes to injustices, lies, betrayal and long-suffering. It's blatantly obvious that the whole world needs it desperately. Never think you have arrived to some special place of achievement or honor in the things of God—we are always learning and growing…and will be till the day Jesus calls us home—through death or when the Trumpet sounds. 
When the King James Version uses the word patience, the modern day word would be endurance or perseverance. 
The verb form that the King James Version of the Bible uses is "to endure." 
We need to look at what Jesus said the world would look like immediately prior to His return. Jesus gave a prophetic preview on the Mount of Olives. Many of the things He spoke about are coming to pass before our very eyes… right now. 
What I want to focus on is what we are going to need to get through these days. "And because lawlessness will abound, the love of many will grow cold. But he who endures to the end shall be saved" (Matthew 24:12-13). 
Pay close attention and notice the direct connection between lawlessness and lovelessness. It's obvious that when people become lawless, they become loveless. We sometimes think of love as spontaneous, a natural response to others, as something free, something that requires no laws and no discipline. But that is far from truth. Love and discipline go hand in hand. Think about what it is like to raise a family. You love your kids, but they have to be disciplined. A good father disciplines his children. God disciplines us. 
Think about this with me. When discipline and law break down, love grows cold. We have watched it manifest for some time now in America…and across the nations. The word for love in verse 12 of Matthew 24 is agape, which refers to the love of Christians. Jesus is not talking about the love of the world growing cold, but the love of Christians growing cold. 
We are witnessing this terrible tragedy today—presently—lawlessness abounding and love growing cold—Jesus says: "But he who endures to the end shall be saved." We have to endure to the end. The original Greek says this, "He that has endured unto the end, it is he who will be saved." 
In Mark's rendering of the same Olivet Discourse—Jesus's prophetic preview on the Mount of Olives—we find this warning repeated:
"Now brother will betray brother to death, and a father his child; and children will rise up against parents and cause them to be put to death. And you will be hated by all for My name's sake. But he who endures to the end shall be saved." —Mark 13:12-13
This is a bleak and somber picture of lies, deception, betrayal, rampant treachery and disloyalty within family relationships and toward Christians who will be hated by all. This is what Jesus warned us about….
This is happening today…and has been happening. People are being persecuted for their faith abroad and here in America. Adult children have risen up, like Judas in the Bible, to betray their own parents. That same deception is going on in marriages, legal battles, in businesses, and even in church and among believers. 
Never forget, in the Book of Revelation Satan is called "that serpent of old…who deceives the whole world" (Revelation 12:9). And Paul warns in 2 Thessalonians 2:9-11 that this satanic tactic will find its ultimate expression in the Antichrist, who will deceive with lying signs and wonders all those who "did not receive the love of the Truth" (2 Thessalonians 2:10).
Our only protection is to receive the love of truth. All who refuse this will not merely be deceived by Satan; God Himself will send them a strong delusion…to those who chose not to believe the Gospel of Christ..the Truth. 
Love of the truth is not a mere conformity to religious tradition, imitating man, or using the latest worldly methods and strategies to draw a crowd in a church. It is not even reading your Bible and having a "quiet time" before the Lord on a daily basis. It demands a total, unreserved, unwavering commitment to believe and obey God's Word—one that rules out all forms of compromise. 
It's where we allow the Holy Spirit to reveal any areas in our own lives that need purifying…where we allow Church services to be led by the Holy Spirit, instead of man, where families and businesses are committed to God and Holy Spirit-led. The Holy Spirit reveals all hidden truth and shows us things to come. He empowers us, sanctifies us, and equips us to stand strong and to succeed. 
What Paul would tell us today is this……he knew Satan was terrified of his calling. The reason Paul was attacked repeatedly and recurrently is that the devil was fearful of the enormous progress Paul would make if he didn't face opposition and adversity. Paul would remind us right now, for today, that his anointing, his calling, and his potential were the factors that triggered demonic attacks in the first place. 
Paul suffered many horrific and crazy things during the course of his ministry because he was appointed a preacher, an apostle, and a teacher of the Gentiles. You see, Satan was terrified of what would happen if Paul could operate in his divine call without hindrance and opposition. 
It's starting to make sense to you now, isn't it? Think about it. How much could Paul do without any opposition? How much territory could Paul take without opposition and resistance? If Paul was able to do all the incredible things he did with God for God's Kingdom in the face of such evil opposition, what kind of Gospel advancements could he have made with no opposition! 
Satan stirred up trouble, threw every obstacle he could in Paul's way to slow him down, to ruin his name, to discredit him, to destroy his relationships, friendships, and, if possible, to even kill him. Satan hated the call of God on Paul's life…and he hates it on mine and your's too. 
It's obvious that Paul had a made up mind—a firm decision—that he would not stop, not quit, and not give up until he had apprehended that for which Christ Jesus had apprehended him (Philippians 3:12). You will have to do the same thing—have a made up mind—make a firm decision—so that you will be able to resist the enemy's attacks and successfully achieve all God has called you to do with Him, by determining, right now, never to stop, until you have accomplished your divine destiny. Jesus taught that those who "endure to the end" are the ones who will receive the prize (Matthew 24:13). 
So..what are we to do?  Resist the devil. Don't give in. Hold out. Endure. I firmly believe that God is speaking that word to us today. I pray that God, through His Holy Word, will put steel in your soul, increased boldness in your heart, and give you a spiritual backbone to endure if you do not already have one. 
I pray GOD will give you a holy boldness to stand strong, stand apart, and step out to represent Him well in the earth. 
BOOKS BY DEBORAH STARCZEWSKI
GOD'S PRICELESS TREASURE (How To Overcome Challenges, Be Transformed and Know Your Purpose) …learn how to move from drama to destiny, a mess to a message, from trials and troubles to triumph through turning to Jesus Christ. 
A LEAP OF FAITH (25 Days At The Mercy Seat)….a miraculous story of hope and healing that will keep you turning the pages. God raised my husband from death, healed him from two strokes, and walked with us through two open-heart surgeries. This book will give you increased faith to believe God for anything and has a Confession Prayer inside that will change your life. 
THE MIDNIGHT HOUR (Will America Turn Back To God?)…a must read for all. 
Available on Amazon, Barnes & Noble, xulon.com bookstore, www.starministriesinc.com and other distributors.