Jesus cursed the fig tree and it withered up—which represented the Spirit of Religion that blinded Israel. Once Jesus gave His life on the Cross and judged Satan, the Church grew expediently. (Fig tree account is in Matthew 21 and Mark 11). Jesus cursed (judged) the tree. Thank GOD Jesus judged Satan, and as believers, we win in the Courts of Heaven. God is our Judge. He has the final say.
But be reminded, don't be like Satan and be the accuser, one who betrays people, or withholds information that could set someone free. Don't look for something to blast someone out about. Satan entered the heart of Judas and he betrayed the Son of God. Jesus said it would have been better that Judas was not born.
In the natural, when anyone steps out to take territory from the enemy, the accuser looks for something to accuse. He will study your past—and can move in the hearts of people who are walking in darkness to be used as an accuser themselves. He can even work through believers. 
For example, when a person steps out to run for any political office—Satan begins to operate through people to study their past, to look for something or someone to accuse to damage that person. Satan attacks anything and anyone who is Kingdom minded and taking territory from him. 
We must learn to attack sin and systems. Good people can get into office and have right heart attitudes, but get caught up in the system. It's not too late for the CHURCH to arise and stand against the enemy. We must unite together in prayer and walk in God's love. I have often heard that the church is the only army that attacks her own. 
Rest assured—GOD HIMSELF judges all. He wants the church (the ecclesia) to step out in her God-given authority as the Body of Christ—soon to be His Bride at His return—and make decrees against the spirits operating behind the scenes. 
You might be asking…how do I do that? First, repent from any sin in your own life (wrong thoughts, deeds, actions). Repent for all wrong heart attitudes and motives. Repent for your family bloodline and history of sin—unknown and known. Repent for all negative confessions about yourself or someone else. Repent for not forgiving yourself—because if you are born-again, the enemy will try to heap shame and condemnation on you because of your past. If you are born-again, you are BLOOD BOUGHT by THE LAMB—JESUS CHRIST. There is great power in the Blood of Jesus. The same resurrection power that raised Jesus up lives inside you as a believer. 
The Blood of Jesus answers every accusation from the Courts of Heaven. God Himself has the final say. Don't fall for the trap of coming alongside anyone who purports to be a Christian but destroys the Body of Christ.
We must arise as the army of Christ. Don't turn on one another and be used by Satan. Stand strong, pray for one another, love one another—realizing that every single person on the planet is like Barabbas…the one that was freed instead of Jesus.  That is a picture of our redemption in the natural.
I don't know what you're walking through—but I pray GOD will give you such tenacity and boldness to find your five smooth stones to face the giants in your life. Run toward the enemy knowing the GOD of all creation is with you. Pray, worship, inquire of the Lord, obey Him…Pursue the enemy, and without fail, you shall recover all. (1 Samuel 30:8). 
God is with us! 
Love,
Deborah 
BOOKS FOR ENCOURAGEMENT:
GOD'S PRICELESS TREASURE (How To Overcome Challenges, Be Transformed and Know Your Purpose)
A LEAP OF FAITH (25 Days At The Mercy Seat)…a modern day resurrection story—
THE MIDNIGHT HOUR (Will America Turn Back To God?)
Available on Amazon, www.starministriesinc.com and other on-line distributors. Can order in bookstores as well.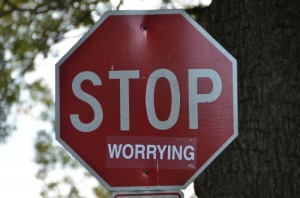 "And your ears will hear a word behind you, saying, This is the way; walk in it, when you turn to the right hand and when you turn to the left" (Isaiah 30:21). 
It's important to heed warnings from God. It's like driving your car down the road, seeing a sign that says "Detour," "One Way," "Curve Ahead," and heeding the signs to avoid getting into an unsafe situation. It's the same in our walk with God. 
God sends signs and warnings along our path in life as well. If you will heed the warnings, you will be able to safely remain on course. Always follow peace in your heart and you will be going in the right direction. 
Always listen to God—obey the leading of His Holy Spirit. Only God can be counted on to never fail you. If you have failed to heed a warning or several from God, there is still hope. Take time to read 1 John 1:9. 
"If we confess our sins, he is faithful and just to forgive us our sins, and to cleanse us from all unrighteousness."
When trouble starts in life, too often people listen to the wrong people—the naysayers. Don't listen to the "What if's" from other people. Keep your trust in God, your focus on Him, and seek the LORD for His direction…even in the midst of difficult circumstances. Don't react—stay calm—stay in peace—and wait on the Lord. Trust Him! 
"As for you, be calm and cool and steady" (1 Timothy 4:5). 
With God, all things are possible. In 2012, the LORD allowed me to see the stop sign above on the corner of Vail Avenue and Randolph Road in Charlotte. It was in a time of great need–my husband was in the hospital at Mercy. God raised him from death, healed him from two strokes, and walked with us through his two open heart surgeries. God was faithful then and He is still faithful today. If you need encouragement, take time to read A LEAP OF FAITH (25 Days At The Mercy Seat) …available on Amazon, www.starministriesinc.com, xulon.com and other book distributors. It will give you increased faith to believe God for anything. Make sure to pray the confession prayer inside the book. Always read God's Word…abide In Christ through prayer and study. It will change your life forever. 
God bless you and stop worrying. God is in control. I don't know what you're walking through, but God is with you. He is full of mercy and grace and brings justice to all. The Blood of Jesus covers you–the Blood answers from the Mercy Seat in Heaven–as believers in Christ, we are seated with Him in heavenly places–and we win in the Courts of Heaven. 
HIS LOVE and mine, 
Deborah Starczewski 
BOOKS FOR ENCOURAGEMENT
GOD'S PRICELESS TREASURE (How To Overcome Challenges, Be Transformed And Know  Your Purpose)…a great in-depth book on God's plan for your life and moving forward after heart-wrenching experiences. You can move from drama to destiny by turning to Jesus. A great read for couples and those seeking to get married. 
A LEAP OF FAITH (25 Days At The Mercy Seat)…the amazing ways the LORD led will keep you turning the pages and give you a glimpse of the amazing love of Father God. A must read for all. A modern day resurrection story. 
THE MIDNIGHT HOUR (Will America Turn Back To God?)…a must read for all.
David's own family didn't see him coming. They didn't think or ponder that he was even in the lineup to be king. But God…saw David in the fields, tending the sheep, worshiping the Lord God Himself, and He saw a heart that was after Him.
While it is easy to get preoccupied with the world's mess down here, you better stay focused on Jesus and on souls. I am telling you…Jesus is coming back soon. The revival fires are coming! There are people in the fields that are in need of Jesus. The fields are ripe with harvest.…souls. That will put your feet to dancing….worshiping before the Lord. 
It is easy to get focused on the vision for our lives to the place that we miss the process totally. It's easy to get caught up in the world system and live beneath God's supernatural plan for our lives. 
God wants us to grow into the likeness and maturity of Jesus. He wants us to do like Andrew did in the Bible (Andrew means bringer…he was always bringing people to Jesus)…to bring as many converts to Him as possible, and to speak life for transformation of the nations and to the people we meet everywhere we go in life. He wants us to use our God-given authority to bring about transformation in our sphere of influence. 
We are called into fellowship with God. We get to spend time with Him, and His Holy Spirit lives inside of us and can rest upon us. 
Everything we could ever want out of life flows from from this one privilege that King David understood better than most New Testament believers. David referred to it as the one thing: 
One thing have I desired of the Lord, that will I seek after; that I may dwell in the house of the Lord all the days of my life, to behold the beauty of the Lord, and to enquire in his temple. (Psalm 27:4 KJV).
One thing I ask from the LORD, this only do I seek: that I may dwell in the house of the LORD all the days of my life, to gaze on the beauty of the LORD and to seek Him in His temple. (Psalm 27:4 NIV)
We must learn to welcome and host the Holy Presence of God…if we want to see and experience revival fires, a returning to God as a nation. Repentance is key. We must seek God with all of our heart, mind and soul as believers…watching for His return…and occupying till He comes. 
Jesus said, "But seek first His kingdom and His righteousness, and all these things will be added to you" (Matthew 6:33). The Kingdom is not separate from His Presence. This command by Jesus is to simplify and prioritize our lives down to this one thing which is evidenced by right living and winning souls. 
As yourself these questions:
Am I surrendered to the Holy Spirit? 
Do I try to run everything and want control?
Has the Presence of the Lord changed my heart attitudes to line up with Jesus?
Does His Holy Presence affect the vision and focus of my life personally?
Am I fully submitted to God so that I obey immediately?
Do I have any feelings against anyone that is clearly against God's Holy Word?
Ask the LORD what it is that He wants you to do next. It may be to invite someone else to preach/teach/minister at your church—so GOD HIMSELF can usher in revival. Sometimes God uses the most least likely candidates — like you read above—about David. 
"Whatever He says to you, do it? (John 2:5). 
Remember this: God spoke the worlds into being. "By the word of the Lord the heavens were made, and by the breath of His mouth all their host" (Psalm 33:6; Genesis 1:3-24). 
Use your words wisely. Speak life. Connect with other believers who are on fire for God—and fan the flame in those whose flame has been reduced to a flicker. People are hurting and need encouragement. Someone is about to give up that needs you to give them hope. 
Take time to spend in God's Presence and devour His Word. When we are so full of God that we want what He wants, we move to obedience immediately. 
We have the most amazing privilege of carrying God's presence. Let's bring Heaven to earth…together….knowing we are called by God into divine purpose. 
We must live for more…more of God…a fresh filling of the Holy Spirit on a daily basis. In Acts 4, Peter joins many others in prayer and prays for more—more boldness. God wants us to be empowered by His Holy Presence so that we can snatch souls from the realms of darkness. 
"Lord, let your people live in overflow!" In Jesus' name! Lord, heal every heart, dry every tear, and bring healing and salvation to every household." 
HIS LOVE and mine, 
Deborah  Starczewski
Deborah's books are available on Amazon, Barnes & Noble, etc.
A LEAP OF FAITH (25 Day At The Mercy Seat)…
GOD'S PRICELESS TREASURE (How To Overcome Challenges, Be Transformed and Know Your Purpose)
THE MIDNIGHT HOUR (Will America Turn Back To God?)